M4 x 40mm Socket Capped Allen-Key Bolt - Marine Grade Stainless steel with locking paste
TRAMPA's M4 x 40mm Socket Capped Bolt is made using A4 Marine Grade Stainless Steel. This very special Bolt is specifically made for TRAMPA & is used to assemble the TRAMPA SUPERSTAR HUBS. The socket capped head of the Bolt screws neatly though the Spokes & into the fixing point in the Rim of the SUPERSTAR HUB eventually screwing  into the M4 nut on the other side easly.
Using Marine Grade Stainless Steel, means these Bolts will never rust on you! They can cope with the most harsh of weather conditions & they laugh in the face of sandy/salty beaches or muddy freeride tracks, which do turn other manufacturers Nuts & Bolts into corrosive rusting wrecks! As well as being Non Corrosive all of the TRAMPA Bolts are diped in  BLUE THREAD LOCKING PASTE to ensure an extra strong secure fix between the Nut & the Bolt.

USED FOR CONNECTING:  
SUPERSTAR HUBS       
MEGASTAR HUBS       
PHATLADS HUBS
M4 x 16mm TORX Socket Capped Head Bolt ISO 4762 Marine Grade Stainless Steel
TORX Screws are less likely to strip out when compared to a hex screw, because of the way the load is distributed and applied between the tool and the hardware. Because of this load distribution, the height of the head of the bolt can be reduced - making them nice & flush. 
Made from A4 Marine Grade Stainless Steel, all of the nuts, bolts & screws used in a TRAMPA board have proven to be up to the challenge of holding everything together. Using Marine Grade Stainless Steel also means these Bolts will never rust on you! They can cope with the harshest of weather conditions & will laugh in the face of sandy/salty beaches or muddy freeride tracks - which can turn other manufacturers' nuts & bolts into corroded rusting wrecks!
Wherever possible, we dip all our bolts into BLUE THREAD LOCKING PASTE, to ensure an extra strong & secure fix between the nuts & bolts.
M4 Nyloc Nut - Marine Grade stainless steel Nylock Nut - Hub Nuts
Introducing TRAMPA's M4 (4mm Shaft) A4 Marine Grade Stainless steel Nylock Nut. This Nylock Nut will fit to all M4 Bolts regardless of their length. This A4 Marine Grade Stainless Steel Nut will never rust on you! It is fitted with the world renowned NYLOCK System (Nylock is a nylon locking system where Nylon is pasted into the threads of the nut so that when the bolt is tightened into the nut the nylon grabs the thread of the bolt holding it locking it in the thread ensuring things do not vibrate loose or fall off when being ridden on rough terrain like that which a Mountain or Kiteboard endures. The NYLOCK thread locking security System is fitted as standard to all TRAMPA Nuts. 
This Nut is used to fix to tighten to the M4 Socket Capped Bolts that hold the HYPA & SUPERSTAR hubs together. To fit the nuts M4 use an 8mm spanner or  8mm Ratchet Socket to turn the Nut onto the Bolt whilst holding the bolt with a 3mm Allen Key. Always ensure your Nuts & Bolts are tight before you ride!
MEGASTAR 9 OFF-SET Rims Measure 3.75/4x 2.5 Inch & the bearings are positioned OFF-SET & accept 3.75 & 4 Inch Rim Tyres
It was hard to ever imagine that TRAMPA's SUPERSTAR hub could ever be improved upon - but that's just what we've gone'n'done! The Super Sexy MEGASTAR Rims are a PRO version of the already amazing SUPERSTAR Rim!

CNC Milled from a solid block of T6 aluminium, polished, anodised (in 10 different colours!) & logo-ed up for a pimp appearance - all of the various MEGASTAR Rims we offer fit the regular SUPERSTAR SPOKES, so if you already use Superstars & fancy an upgrade, you'll only need to purchase the Rims to make the swap.

MEGASTAR Hubs can handle the highest inflation pressures of any small wheel on the market. Increasing inflation rates ultimately increases maximum roll speeds, making these hubs the perfect option for the insane among us!

MEGASTAR Rims have extra threaded bolt holes for wheel balancing purposes -  the extra holes allow you to screw in 2x extra M4x16mm Socket cap TORX Bolts directly opposite the valve - which in turn counter-balances, creating a smoother rotation &  faster spin rate!
---
Megastars are available in a variety of sizes, with different spoke/bearing positioning for a number of different applications!


---
CENTER-SET Bearing position, which is a direct aluminium replacement of the original plastic-injection Superstar rim. Keeping the bearings centrally-located within the hub leaves the wheelbase unchanged, for a nimble feeling & riding board.
Megastar 8 CENTRE SET RIMS fit all 3.75x2 inch Rim Tyres & Regular Superstar / Skinny BB-Star Spokes.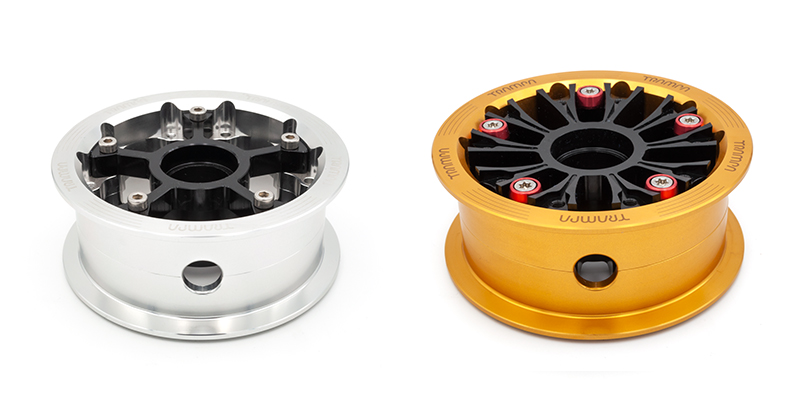 ---
OFF-SET Bearing position moves the wheels further from your feet - widening the boards wheelbase, which in turn increases stability - perfect for large people & small Boards. Initially created in conjunction with narrower Truck Models (12-Fifties & Mini Spring Trucks) in order to grant clearance for bigger tyres or rear-mounted battery boxes.
Megastar 8 OFF SET RIMS fit all 3.75x2 inch Rim Tyres & Regular Superstar / Skinny BB-Star Spokes.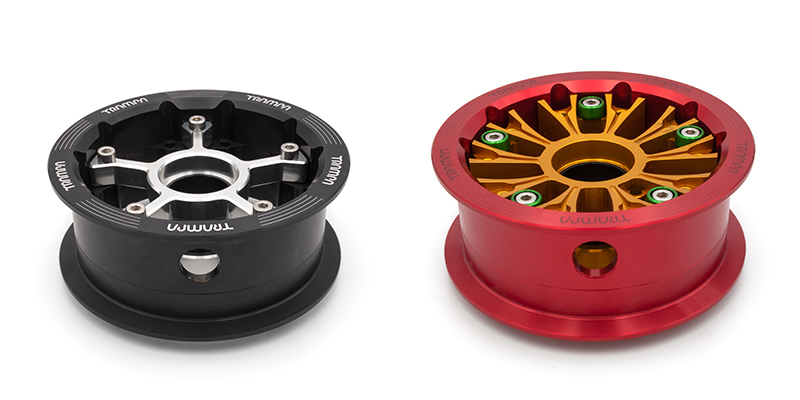 Megastar 9 OFF SET RIMS fit all 3.75x2.5 inch Rim Tyres & Regular Superstar / Phat BB-Star Spokes.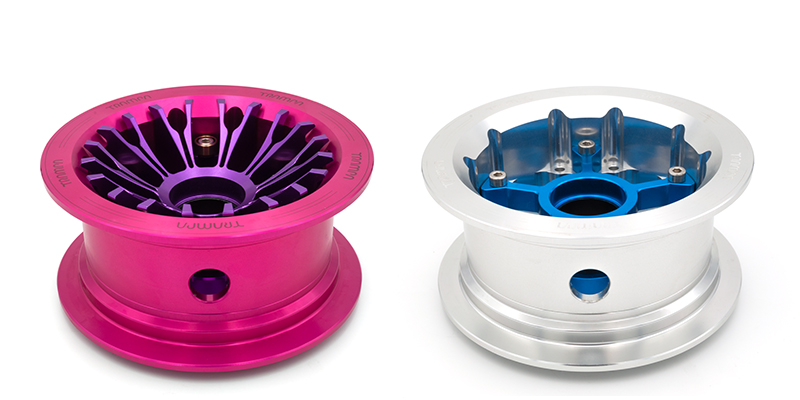 ---
DEEP-DISH Rims are as pimp as it gets! These elongated rims both widen the wheelbase of a board as well as the contact patch of the tyres - improving both stability & grip! While also granting extra clearance for fitting larger tyres or rear-mounted battery boxes.
 
Megastar 8 DEEP DISH RIMS fit all 3.75/4 x 2.5 inch Rim Tyres & Regular Superstar / Skinny BB-Star Spokes.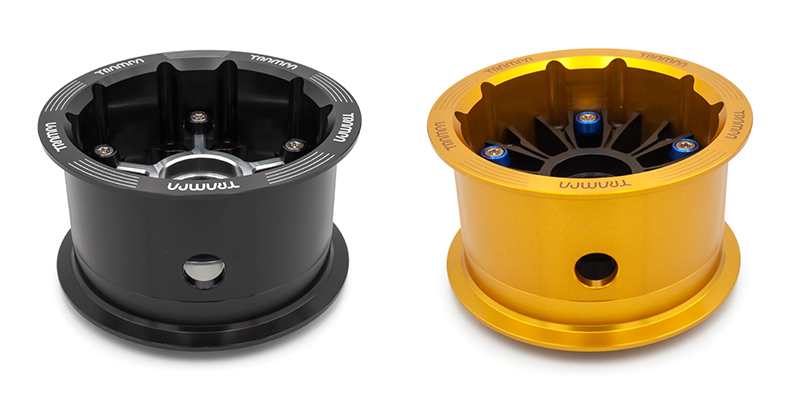 Megastar 9 DEEP DISH RIMS fit all 3.75/4 x 3 inch Rim Tyres & Regular Superstar / Skinny BB-Star Spokes.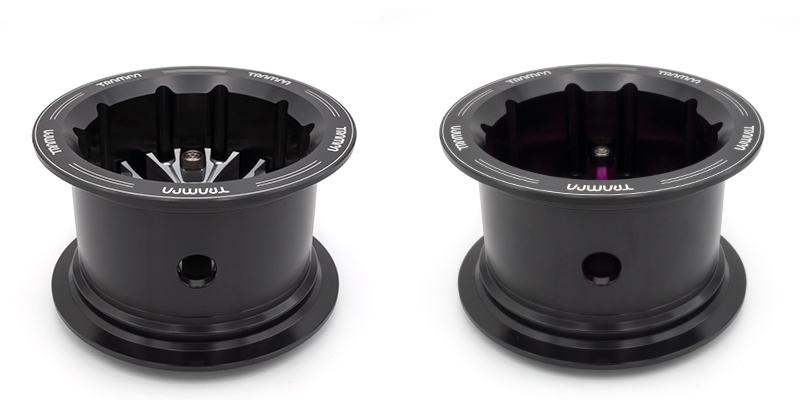 ---
The CENTER SET & OFF SET (3.75 x 2 Inch) MEGASTAR 8 HUBs fit ANY of the tyres in TRAMPA's range up to 8 inches in Diameter - including the 5 Inch Gummies tyres, 6.5 Inch URBAN Treads, 7 Inch Inline tyres & ANY 8 inch tyre option.

The DEEP DISH (3.75/4 x 2.5 Inch) MEGASTAR 8 HUB fits most tyres in TRAMPA's range up to 8 inches in Diameter, widening the tread & increasing the contact patch - including 6.5 Inch URBAN Treads, 7 Inch Inline Tyres & ANY 8 inch Tyre option.

The OFF SET & DEEP DISH (3.75/4 x 2.5/3 Inch) MEGASTAR 9 HUBs fit most of the tyres in the TRAMPA product Range up to 10 inches in Diameter, widening the tread & increasing the contact patch - including the 6.5 Inch URBAN Treads, 7 Inch Inline Tyres & ANY 8, 9 or 10  inch tyre options TRAMPA offers.
---
TRAMPA's REGULAR SUPERSTAR SPOKES are made from Extruded 6061 Aluminum (Super Strength Aero-grade quality) & comes in a range of colours to satisfy your taste.
TRAMPA's new BB STAR Spokes are as lush as it gets - CNC'd from T6 Aluminium, available in two models - SKINNY (fits ALL MEGASTAR rims) or PHAT (fits OFF SET MEGASTAR 9 ONLY).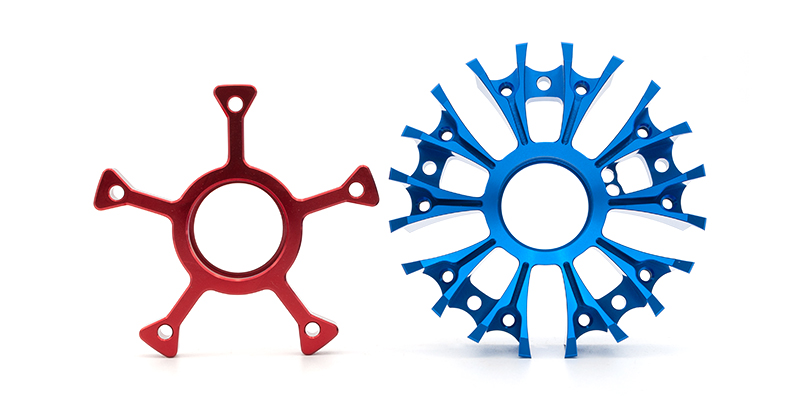 The MEGASTAR's hub construction is held together by using 5x Socket cap M4 x 40mm A4 (Marine Grade) Stainless Steel Nuts & Bolts that'll never rust on you!
Further pimp up your Megastar hubs with M4 Socket Cap spacers - anodised in 10 colours!


TRAMPA's MEGASTAR Hubs can be used in conjunction with any of the Pulleys that fit to SUPERSTAR hubs.

It's possible to fit any Bearing size TRAMPA offers into MEGASTAR Rims. As Standard the Superstar / Megastar spokes accept Mountainboard bearings for 12mm Axles - these bearings can be fitted with Reducer Sleeves that allow the hub to fit to 9.525mm Axles. If you use the Special Spoke Support Spacer into the assembly of the hub, you can fit to 8mm Longboard Axles - where hundreds of top quality bearing options are available to choose from.

CLASSIC 5 SPOKE for or any size MEGASTAR Rim - Extruded T6 Aluminum Heat treated & CNC Precision milled fits all SUPERSTAR & MEGASTAR Wheels
TRAMPA SPOKES for Superstar or Megastar Hubs. TRAMPA's Spokes are produced using T6 Heat-Treated 6061 Aero-grade "Top Quality" Aluminum, which is forced through an Extrusion Die. Our Spokes are made in one continuous piece - once extruded the resulting profile is T6 Heat Treated - making the Alloy extremely strong. 
The spokes are bead polished to take away and sharp edges then the spokes are sent away to the Anodisers to have the relevant colours added. Once the colour has been added the precision CNC machine is put back to work to mill out the bearing housing perfectly. 
Check your spoke support spacers, O-Rings and hardware is in good condition when changing spokes & ensure all of your nuts & bolts are tight before you ride!
CUSTOM Spoke Support spacer - Installing a Spoke Support Conversin Spacer allowsyou to fit SUPERSTAR or MEGASTAR hubs to 9.525mm & 8mm Axles such as Evolve, Boosted & many others
This is the TRAMPA SUPERSTAR Spoke Support Spacer. It is used to gain extra strength for the SUPERSTAR wheel design by adding support to the Aluminum Spokes when the wheel is being used under high inflated pressures...
Precision injection moulded, using original DuPont materials, this Spacer provides essential support for the Spokes in the Superstar hubs. There is a Deep Shelf on the Rim of the Spacer which pushes into the internal side of the Spoke, positioning the Spacer/spoke perfectly for assembly. The thick plastic ensures a very strong support platform maximising Bearing support & spin rate always....
Ensure all your nuts & bolts are tight before riding!!
URBAN TREADS 6 Inch Tyre measures 3.75x 1.75x 6.5 Inch or 165x 45mm with 3.75 inch Rim & fits all 3.75 inch Hubs
Produced at the INNOVA Factory, TRAMPA's own 3.75x 2x 6.5 Inch or 165x 45mm Super Low profile URBAN TREADS tyres have been specifically designed to fit TRAMPA's incredibly strong & sexy range of 3.75 Inch hubs. 
We wanted to radically change the rough ride experience of that when riding with regular style longboard wheels, even the super-soft GUMMIES tyres can feel harsh when riding on not so smooth surfaces such as when riding in Urban/City environments.... We all know the pavements & roads are far from a perfect surface so much so that sometimes its almost impossible to ride regular Longboard wheels, some of the pot holes around me are terrible but with these URBAN TREADS tyres fitted you can smash through all the imperfections whilst still enjoying that small wheel fast turn feel... 
TRAMPA's 6.5 Inch URBAN TREADS tyres are arguably the Premium Tyre choice when it comes to requiring lots of grip from Small sized wheels. Produced with whats known as a 'High TPI casing' the rubber compound used is 'super soft & very Grippy'. TPI means Threads Per inch & the URBAN TREADS tyre, being premium, uses thousands of very fine threads per Inch in its construction to stitch between the 'outer lightweight nylon Rims', the length of the threads in turn gives the wide construction shape to the tyre... having a High TPI means the tyre's construction is incredibly strong whilst still very supple, like a posh bicycle tyre. 
Having a High TPI & using hefty amounts of thick Motorcycle rubber means not only is the construction of the tyre incredibly strong but it will also wear incredibly well too. This extra strength in turn allows the tyre to be run at both, incredibly low tyre pressure or should the circumstances require (such as a skate park where you need to pump hard) inflated to being incredibly hard, the URBAN TREADS tyres can easily handle our factory set limit of 65psi. We have herd of some of the crazy Lab Rats we use (i mean TRAMPA team riders) are inflating URBAN TREADS over 100psi (i dont think their pump will allow them to get any more air in haha) & with currently no problems to report... But for sure, if one pop's at 100psi it will certainly make one hell of a noise!! BANG!!​ haha! :-)
Riding on such a small sized tyre gives the most radical performance change to literally every board in the TRAMPA range. There is no doubt the tyre was developed specifically for the URBAN CARVER BOARD & more in particular the ELECTRIC URBAN CARVE BOARD where both products use a smaller deck & the smaller sized Mini Spring Trucks system,  the smaller board needed a slightly smaller tyre than that of the full sized 8 inch ATB decks to compliment the overall product size, so in true TRAMPA style we made the URBAN TREADS Tyre special for that application but since then we have found over these last cold wet winter months that the 6.5 inch URBAN TREADS tyres have also become the choice tyre for Mountainboards who are maintaining their riding skills in the out of season period by riding in indoor Parks or Tracks, just ask Sonnie - TRAMPA Pro Team rider, who has literally not stopped riding indoor skate parks to retain his fitness through the winter since the release of these new tyres...
TRAMPA's Electric boards have amazing performance with a top speed of over 60kmph achievable on all models. When your hitting high speeds like this you need good tyres on your board. Thankfully the URBAN CARVE range of decks are fitted with super sexy 6.5 inch URBAN TREADS Tyres connected to 62 Tooth Pulleys as standard. The reinforced, low profiled, wide center beaded with intelligently designed jagged edge around the side can be run on low inflation pressure which gives enough grip to cut muddy corners or nip down hard packed off road tracks no problem, but can also handle the super inflation for straight line flat out speed. If you wish to ride full speed we 1stly suggest you turn the SPRING ADJUSTERS clockwise to tighten the steering resistance, pre-loading more tension into your springs before you wish to hit high speeds will prevent potential wobble, and if you re beginning to feel a bit of wobble, then you should move the springs to the outside position before attempting to go any faster. If you still feel speed wobble when the springs are in the outside position, then you should then further add the TRAMPA DAMPA's to add even more steering resistance to enable you to be able to go even faster :-)
The Urban Tread tyre doesn't only handle high speeds easily but riding around town where you are likely to be bashing up & down curbs & dealing with cracks in the road or potholes, then you should be riding at much lower inflation pressures. The lower pressure gives so much comfort on the rougher stuff but of course does increase Drag making it harder for your batteries to perform well...