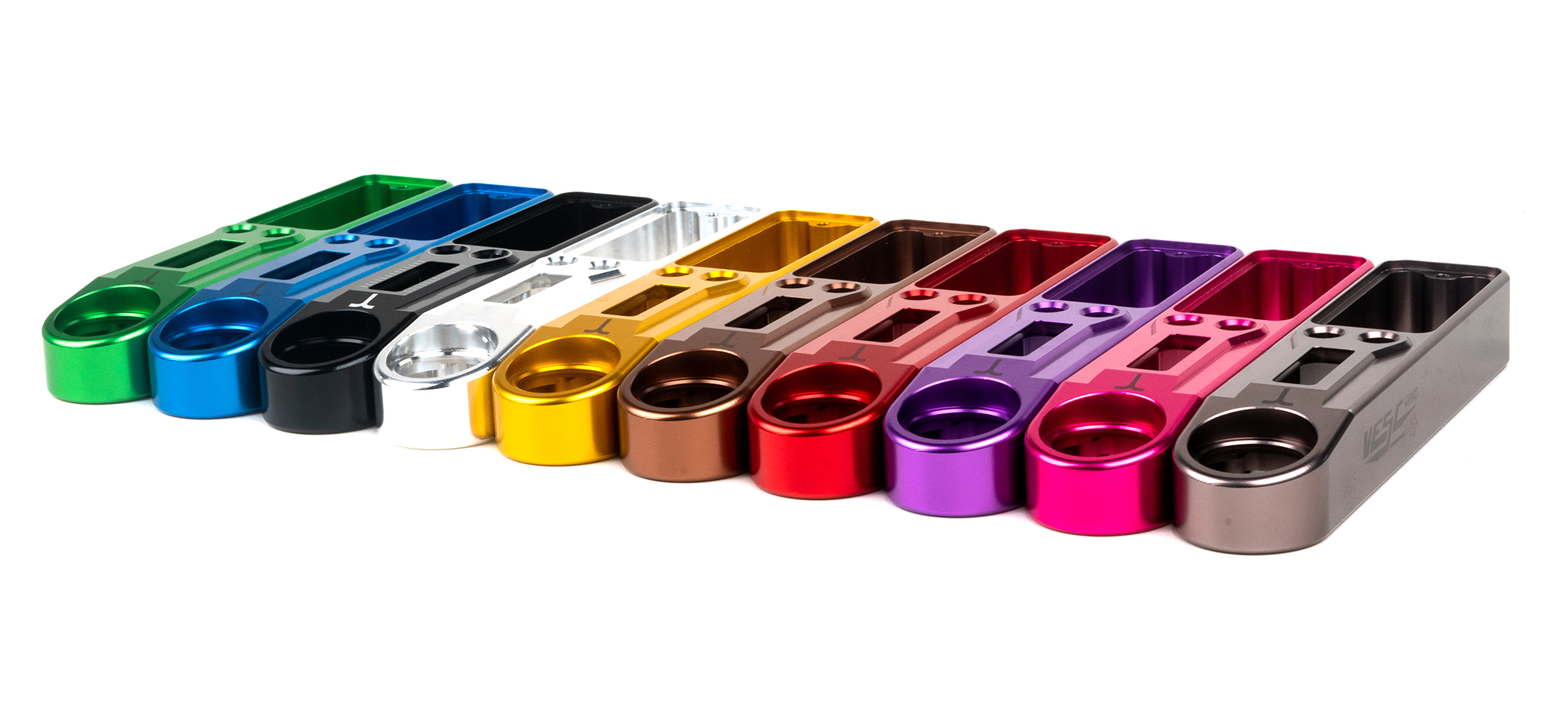 Introducing the Amazing WAND CONTROLLER
Frank Drenckhahn - King of design & production at TRAMPA & Benjamin Vedder - Creator of the VESC & 'Yoda of Electronics', spent the winter period of 2018/19 designing a revolutionary remote controller, with some new & very exciting 'E-Skate-specific-features' to work in direct relation with the VESC / TRAMPA series of products.
There are many basic remote control options already on the market, but none of them hit the high bar when it comes to features & reliability. Here at TRAMPA, we've experienced riding with in-sufficient, untrustworthy remotes. Consequently, we've always dreamed of holding a reliable, versatile, ever-lasting, informative & safe remote controller, that matches the outstanding performance of the VESC software & the TRAMPA equipment that they'd be so frequently paired up to. You should expect nothing less than magic whilst holding the WAND!
HARDWARE
High-end TRAMPA Electric boards deserve to be controlled with a high-end remote, you need to be 100% in control over the Monster under your feet! Personally, I always dreamed of something that feels nice in your hands, made of high grade material, with a little bit of weight to represent the same high quality level of our TRAMPA boards, and the cutting edge technology the VESC offers. This remote is made from 6061 T6 (Aero-grade) Aluminum with a sleek carbon fiber battery lid. You'll see & feel the quality straight away.
REAL TIME DATA DISPLAY
The WAND is fitted with a circular high resolution OLED display that reveals all the crucial information you want to have at hand while riding your board. The screen might be small, but the list of data it shows is HUGE! You'll be able to scroll through and see your current speed, average speed, amp draw, duty cycle, average watt hour draw, battery indicator (for both board & remote), recuperation and more to be added through firmware updates!

Whatever data the VESC captures can ultimately be displayed on the OLED screen. Benjamin even added in a few tools to display animated graphics, for ultimate pimpness!
SMART REVERSE
Ever overshot the junction & wished you could reverse a little to pull you back from the traffic? Well now with The WAND in your hand, pulling back on the Thumb Controller bringing you to a stop & keeping your thumb in the braking position will automatically start the Smart reverse feature - switching the rotation direction of the motors at a slow speed, so the board reverses you out of trouble. A A very clever feature designed to keep our customers safe...
SAFETY & GESTURE Control: AN OUTLOOK TOWARDS FUTURE FW UPDATES
What is really exciting is the IMU (Inertial Measurement Unit) inside The WAND... The IMU knows the exact orientation of The WAND in space and gathers acceleration values of all the space axis at the same time, acceleration, speed & elevation. Using the IMU, Benjamin will in future be able to code some really useful safety features, as well as some playful things. For instance; one day the remote will be able to tell if you take a tumble & will be able to stop your board safely. It will know when it is resting upside down on a surface, and refuses to send accidental signals to the board. Powering up when you pick it up & going to sleep after 5 minutes of inactivity The WAND is smart enough to save its own battery! It can even be used as a water spirit level, helping you to align things perfectly! Expect some nice FW updates in the FUTURE. IMU features will become available over a period of time!
TRANSFORM YOUR REMOTE
On top of the features mentioned above, amazing piece of tech features the options to either be converted to a pistol grip style trigger remote, or to have an additional small trigger on the lower side to allow additional index finger control. I like to use my index finger to send acceleration commands, while using my thumb to send brake signal commands. Others want to use their thumb or index finger only. Much alike TRAMPA's boards, these remotes are made to be customised around you!
SAFE KEEPING
We've all wasted too much time on the pre-riding ritual known as "Where the **** did I leave the remote?!" Well no more. We decided to equip The WAND with a Magnetic bottom panel. A small metal sheet or magnet attached to your board (stick a big washer to your Battery Box or similar), will keep your remote safe where it belongs all the time, or you simply keep your remote on the fridge, next to the car keys! 
BATTERY LIFE
Battery life has always been an issue in the past. Sometimes you want to go out for a ride, but you forgotton to charge up your remote. Then after a quick charge, you end up worried that it'll die before the end of your ride.

When Frank & Benjamin designed this remote, ultra low energy consumption was a prime goal to achieve.

We chose to use standard AAA batteries, so that you can easily carry spares & swap them out - like changing the batteries on your TV remote, giving you ultimate confidence that you will never ever run out of battery. Two tiny AAA cells are good for 30 hours of constant operation. AAA cells are available at gas stations, supermarkets, drug stores, or even in a remote house in the middle of nowhere in a kitchen draw, should you get real desperate while out on your endless trails!
SOFTWARE & SUPPORT
We don't want you to have to buy a new remote because the software becomes outdated, so we made sure this remote would have a USB & SWD port, allowing you to easily flash the latest firmware, and unlock the latest features when they get released. This remote is future proof & will surprise you many times over its life. The Wand Firmware will be Open Source.

Please browse Benjamin Vedders Github for source files and copyright information : https://github.com/vedderb
COMPATIBILITY
This remote is fully compatible with the TRAMPA NRF Dongle. An NRF connection is required to pair the Controller to the VESC device. Depending on if or when you bought the dongle, you might need to update its firmware in order to make the connection to the controller though the VESC, which is a simple task. This remote is compatible with any ESC that is based on VESC technology, and running the VESC firmware. Simply plug the TRAMPA NRF Dongle into the UART port of your ESC.
CALIBRATION AND MULTIPLE BOARDS
This remote doesn't require calibration. A simple one click pairing procedure does the trick. This remote will become a solid partner to all your boards.  No more need for multiple remotes for lots of boards, unless you want to ride out with your friends. In which case you can leave your old PPM remote receiver plugged in & switch over to that using the VESC-Tool App.

In order to connect The WAND to your VESC or VESC based ESC, you will need to do a Firmware update on that ESC. Simply plug the TRAMPA NRF Dongle into your VESC & pairing is pretty much automatic, just follow the on-screen instructions. The TRAMPA NRF Dongle can be updated to the latest, compatible FW, using the latest desktop VESC-Tool.
---
Technical features for the WAND;
- Stable & safe with NRF wireless connection
- High resolution OLED display
- 2x AAA standard size battery which will give over 60 hours of battery life
- Exterior dimensions:144 x 31x 22mm
- Full Aluminum 6061 T6 SOLID CNC'd housing - Anodized Black with Laser Logo's
- Magnetic bottom panel. The remote sticks to metal surfaces for safe keeping.
- Easy connectable to thousands of devices
Modes that the WAND can control;
- Forwards
- Brake
- Reverse
- Cruise Control
OLED Display will show you;
- Current Speed
- Average Speed
- Amp Draw
- Battery status of Remote
- Battery status of Board its connected too
- Duty cycle
- Estimated range
- Watt Hour Consumption
- Many many more features yet to be written about :-)
Saftey;
- Shock sensor (will become available via future Firmware update)
- No signal when remote is turned head over (e.g. trigger resting on surface)
- Safe NRF based wireless communication
- Safe pairing to board
- No calibration needed
- No interference with other remotes (group rides)
- Auto power off, auto power on
- Regular firmware updates available
ADDITIONAL FEATURES
- Your Android Phone or Mobile device with the VESC App & the WAND remote will share the same connection to VESC giving seamless connectivity.
- Firmware can be updated via VESC-Tool
- Works with existing TRAMPA NRF Dongles (Dongle may require a Firmware update)
- Different size triggers to fit different sized fingers
- Can be transformed to be a 'Finger Trigger' style remote where an additional feature of adding a Handle for comfy holding
- Can be transformed to have 'Thumb Stick' & 'Small Trigger' on lower side (use index finger for acceleration and thumb for brakes)
- Built in IMU (gyro and accelerometer) Be surprised what magic this can do in the future.