MEGASTAR 9 DEEP-DISH Hubs are as pimp as it gets! The elongated rims widen the wheelbase of a board as well as the contact patch of the tyres - improving both stability & grip, while looking amazing!

It was hard to ever imagine that TRAMPA's SUPERSTARS could ever be improved upon - but that's just what we've gone'n'done!! CNC Milled from a solid block of T6 aluminium, polished, anodised (in 10 different colours!) & logo-ed up for a pimp appearance - MEGASTAR Hubs can handle the highest inflation pressures of any small wheel on the market! Increasing inflation rates increases maximum roll speeds, making these hubs the perfect option for the insane among us!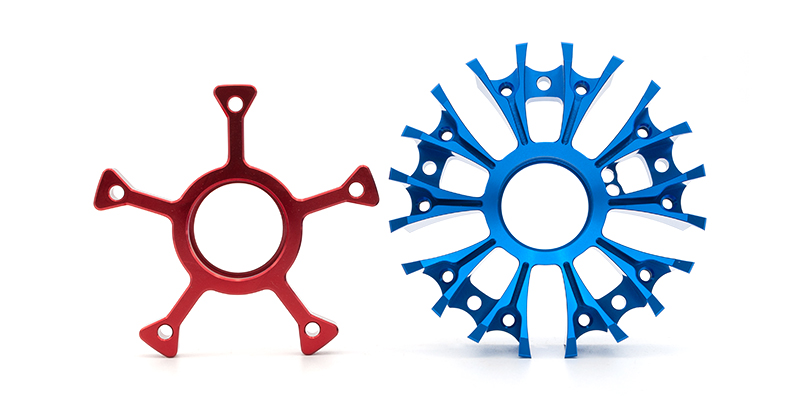 TRAMPA's REGULAR SUPERSTAR SPOKES are made from Extruded 6061 Aluminum (Super Strength Aero-grade quality) & comes in a range of colours to satisfy your taste. TRAMPA's new BB STAR Spokes are as lush as it gets - CNC'd from T6 Aluminium, available in two models - SKINNY (fits ALL MEGASTAR rims) or PHAT (fits OFF SET MEGASTAR 9 ONLY).

It's possible to fit a SPOKE CONVERSION SPACER within MEGASTAR Hubs - allowing them to accept smaller bearings & axles, meaning its possible to fit MEGASTARS to any truck with an 8mm, 9.525mm or 12mm Axles!

TRAMPA's MEGASTAR Hubs can be used in conjunction with any of the Pulleys that fit to 5-spoke hubs!


3.75/4 x 3" Rims - fit all 9-10" diametre Tyres
& Regular Superstar / Skinny BB-Star Spokes.
Megastar Hubs use a 4-piece design, joined together using 5x M4x40mm Socket Cap bolts.
---

8" Tyres are the first choice for many riders, and are generally considered the "industry standard" when it comes to Mountainboard wheel sizes.

8" GOLFA TYRE - Looking as though they came straight off a Golf-cart (hence the name) the GOLFA tyres are much wider than other 8inch tyres, to create a huge contact patch & unparalleled grip. Due to the extra width - GOLFA Tyres will only fit to hubs with  2.5inch deep rims.
---
9" Wheels are a huge advantage when riding on challenging terrain. The Larger circumference allows for a higher rolling speed, while the extra width provides more extra grip.

9" PRIMO STRIKER TYRE - A favourite among boarder-X racers, the PRIMO STRIKER was designed for fast riding on hard-packed dirt. Made using a hard rubber compound with a Wide Center Bead to help achieve the maximum rolling speeds. The close cut grip pattern around the sides of the tyre gives loads of grip on changeable terrain.
 

9" INNOVA INLINE TYRE - With straight cut tread & the ability to handle high PSI, the INLINE  is the perfect option for easy rolling. Working best on smooth surfaces such as skate parks, tarmac or asphalt, the 3mm deep 'In Line' grooved surface, encourages the tyre to track in a straight line! Unlike standard Longboard/street style wheels, the pneumatic INLINE tyre is easily big enough to glide over cracks, stones or holes, & will handle hard-packed rougher terrain, such as gravel path with no problem.
 

9" DIAMOND TREAD TYRE - Made from relatively soft rubber with a close-cut tread pattern & a ballooned-shape, the DIAMOND TREAD Tyre is a perfect all rounder option, giving great grip on hard surfaces & good grip when heading off road - especially during the summer months.
 

9" MUD-PLUGGER TYRES - using a deep & aggressive tread pattern that creates 'Grip on top of Grip', with straight sidewalls and a rigid rubber structure, MUD PLUGGERS have a box-ier shape that increases surface contact. Able to run on both low & high PSIs, the wide center bead both reduces rolling resistance and improves traction! Produced using a soft 2PR rubber compound with a high TPI (thread-count per inch), the resulting tyre is amazingly grippy & hard-wearing!
---

Perhaps too big for boards, 10" wheels are perfect for go-karts, golf buggies, trikes, tractors & countless other applications.The larger circumference means less roll-resistance,  allowing greater top speeds. The extra width means the tyres allow more surface contact, meaning greater grip!

10" DURO-Tread Tyres are designed like the tyres you might find on a motor-enduro bike, these hard-wearing tyres are made for long journeys & potentially aggressive terrain.The simple-yet-effective tread on this tyre provides enough grip for on & off road use. 
 

10" Tractor Tread uses aggressive grip like that you'd find on (as the name suggests) a tractor. This tyre will have no problem finding grip, even in the slippiest of mud.
---