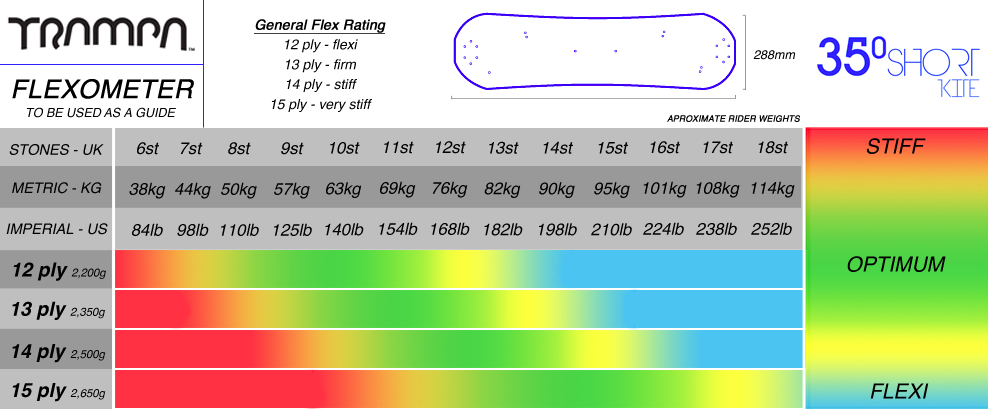 By altering the number of layers of material that we add into the mould, we are are able to tune the final performance of the TRAMPA decks relevant to the riders weight height & ability. Please use the FLEXOMETER above as a guide to help you choose the right ply board for you. TRAMPA's FLEXOMETER information is to be interpreted as a 'GUIDE ONLY' as there is no fixed rule as to which is the exact right deck for you. The weight, height & ability of the rider will all help determine which is the right sort of deck for you, but of course the most important factor is personal preference as to how the rider wants their deck to feel.... Some riders like it flexi, some like it firm, some like it very very stiff.... It depends on what you are doing on your board, i.e. freestyle, freeride, boarder-cross, altho there is guidance there is no right & no wrong just personal preference but when purchasing a deck from TRAMPA we want to make sure you get it exactly the way you want it! so if your stuck as to which one is the best for you them please drop as a line...
12ply 35° SHORT Original 9-69 TRAMPA Mountainboard or Kiteboard Blank Deck
TRAMPA's Original 9-69 35° Short Mountainboard deck is the perfect deck option for "Advancing teenagers" & "Intermediate adult" sized riders. Being shorter in overall length, its excellent for big airs, fast rotations & any types of freestyle use but can of course also be ridden down a track or basic Grassy slopes..... The 35° tip means it needs to be fitted to spring trucks. Spring Trucks are much more robust than Skate Trucks. Spring Trucks also offer a lot more custom adjustment, resulting in more stability to the rider, especially when compared to the 15° deck with Skate Trucks. Its dimensions make it excellent for all sizes of rider from youngster to adult starter. It can be used for Mountain Boarding or Kite Boarding.  Its often purchased as a Blank deck or as an Up-Grade to replace a broken or non responsive wooden deck supplied by other brands & will also fit to Scrub channel & MBS Matrix Trucks.
The Original 35° Short is available in 4 different flex rates, 12ply is the most flexible, 15ply is the stiffest. Please use the FLEXOMETER in the TAB ABOVE for guidance as to which is the most suitable ply deck for you or mail this link if you need some extra guidance. The 35° Short is supplied as Drilled, Edged, Sanded with Grip-Tape & of course with a complete deck Marine Grade Stainless Steel Bolt Kit!
1x 9 Inch squares of Top Quality Jessup Grip tape
Mega Grippy & really easy to apply. Ensure the decks surface is clean & dry before application. Easy to custom shape, simply draw your shape on the back & cut out with Scissors or sharp knife. Remember to use a ruler for clean edges. Watch your fingers when slicing, please ask an adult to make this work if you are under 16 & please remember, when you draw on the back of the grip tape remember its a mirror image so do everything in switch! Use a template for best results... :-)
M5 x 30mm HEX Head Bolt - Fixes Trucks to decks - Marine Grade Stainless steel with locking paste
Made from A4 Marine Grade Stainless Steel, all of the nuts, bolts & screws used in a TRAMPA board have proven to be up to the challenge of holding everything together. Using Marine Grade Stainless Steel also means these Bolts will never rust on you! They can cope with the harshest of weather conditions & will laugh in the face of sandy/salty beaches or muddy freeride tracks - which can turn other manufacturers' nuts & bolts into corroded rusting wrecks!
Wherever possible, we dip all our bolts into BLUE THREAD LOCKING PASTE, to ensure an extra strong & secure fix between the nuts & bolts.
M5 Nut - Marine Grade Stainless steel Nylock Nut - Fixes to Trucks & Bindings
Introducing TRAMPA's M5 (5mm Thread) A4 Marine Grade Stainless steel Nylock Nut. This Nylock Nut will fit to all M5 Bolts regardless of their length. This A4 Marine Grade Stainless Steel Nut will never rust on you! It is fitted with the world renowned NYLOCK System (Nylock is a nylon locking system where Nylon is pasted into the threads of the nut so that when the bolt is tightened into the nut the nylon grabs the thread of the bolt holding it locking it in the thread ensuring things do not vibrate loose or fall off when being ridden on rough terrain like that which a Mountain or Kiteboard endures. The NYLOCK thread locking security System is fitted as standard to all TRAMPA Nuts. 
This Nut is used to fix to the Regular shaped M5 Bolts that hold the TRUCKS to the DECK for all  Decks & also for the Dome Head Bolts connecting the L BRACKETS to the Bindings. Use an 8mm spanner or Ratchet Drive to tighten the Nut onto the Bolt. Always ensure your Nuts & Bolts are tight before you ride!